Keep Your Food Fresh While Saving Space With This Reusable Mason Jar Ziplock Bags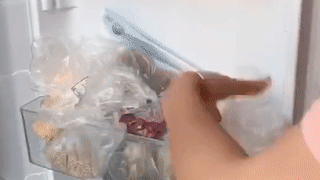 FEATURES:
EASY STORAGE - The best alternative to those old containers (that become useless pieces of plastic once you lose their lid).
Keep single-use plastic bags and those heavy, bulky glass jars away and replace them with this easy to use Reusable Mason Jar Ziplock Bags!
AIRTIGHT AND LEAK-PROOF - Quick and safe storage thanks to its airtight zip sealing system!
This also maintains the freshness and completely isolates your food from the internal and external airflow, extending its shelf life.
REUSABLE AND ECO-FRIENDLY - The material is tasteless, non-toxic, 100% recyclable, and BPA-FREE. Resistant to high and low temperatures and certified as safe for contact with food and liquids by the FDA.
UNIQUE & USEFUL DESIGN - Lightweight, easy to store (stand on their own when filled), save space, and have the unique appearance of a real mason jar.
WIDELY USED - They are widely used for packaging foods, non-food, liquids (peanut butter, oils), and more. Plus, it comes in a variety of sizes from 150ml to 1L to fit all your needs.
Start saving money and space in your kitchen today!
PACKAGE INCLUDES:
3 pcs - Small
3 pcs - Medium
3 pcs - Large
3 pcs - XL