Always looking for a make-up mirror outside the home?
Now you can carry your cosmetics and grooming products around with you and use them wherever you go, thanks to our roomy and handy make-up bag with LED mirror.
Huge storage capacity
Battery operated
Adjustable LED mirror
Adjustable compartments
4K LED mirror with adjustable colors and brightness
The 4K LED mirror is built into the body and adjusts the light temperature, brightness, and angle, allowing you to use your beauty accessories at any time of day or place.
• long press | adjust light brightness
• gently touch | adjust color temperature
Adjustable dividers to store with convenience all your cosmetics on the go
The makeup travel bag is made up of DIY fully adjustable parts, which allows each one to adapt the divisions to their own needs to store cosmetics by rearranging the dividers.
• Adjustable support straps included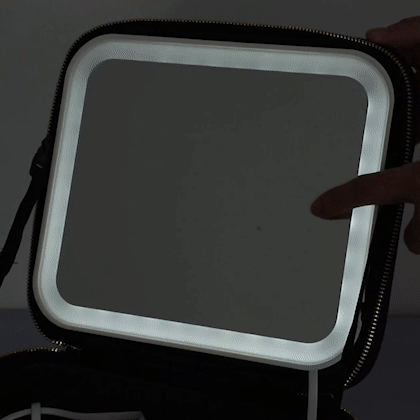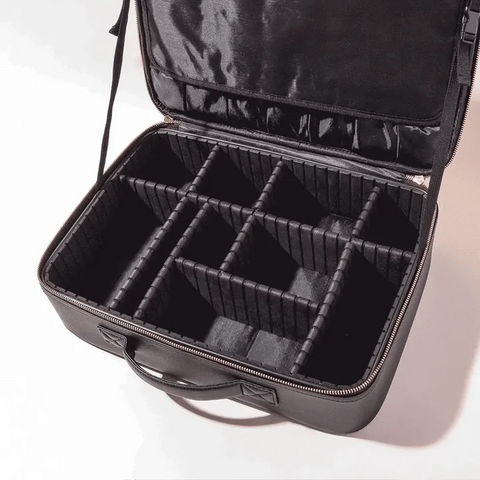 Made of High-Quality Materials
The makeup travel bag has a sturdy construction made from quality, waterproof materials with a strong & practical handle, and a well-built zip that moves smoothly.
You can travel without worrying that something inside the bag will break or spill.
Features:
👜 Easy To Carry: The portable makeup organizer case carries everything you needed and Holds everything nicely in place. It can be hooked onto the luggage handle for a carry-on, allowed size for carry-on items.
👜 Waterproof Makeup Bag With Mirror:
The bag comes with a mirror and the mirror is very big and nice with protective film, providing convenience to wearing makeup.
👜 Travelling Makeup Bag With Dividers: Dividers are hard and padded to hold and protect the products inside. you can customize the layout and change it up as you add new products.
👜 Roomy & Sturdy Train Case: This is a great makeup bag with lots of room, Was able to carry makeup and face care products altogether, makeup bag organizer can be a great gift for your friends and families.
👜 Great Travel Size: If you often travel and have a lot of essentials, it is significant for you by holding everything you need while traveling. You can just store your cosmetics in your daily life.
Specifications:
Our satisfaction guarantee
Our customers and we are convinced that you will never use another makeup bag again.


If you are still not 100% satisfied, contact us within 14 days of receiving the goods and we guarantee to find a suitable solution for customers.