We will send you an email, please remember to check, thanks for your support
DIY baking is a careful and even complicated thing, but it is a particularly meaningful and fun thing.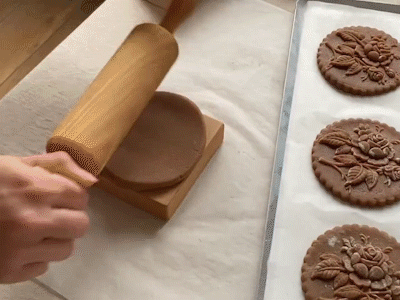 Pine Cones Cookie Mold
Hand-made embossing molds, a variety of design patterns, we can use it to make biscuits or gingerbread to surprise our family and friends.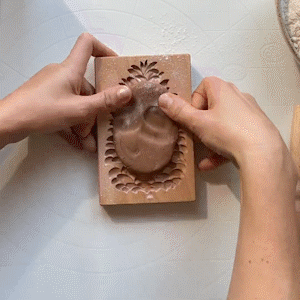 This wooden mold is the best gift for or any occasion!

SPECIFICATIONS:

- The mold has been handled with food safe mix of bee wax and flax oil.
- Ideal for making prianik, gingerbread and honeycake or cookies.
- Coated with natural flaxseed oil to preserve the integrity of its stylish look and functionality.
- Made of beech wood, flax oil.
- Price for 1 mold.
❤️These cookie molds are so detailed and pretty.
MOLD SIZE:
PINE CONES: 5*3.2*1" Inches 🔥
SANTA CLAUS: 4*3.2*1" Inches
Christmas Creche Nativity: 4*4*0.8" Inches
SQUIRREL: 4*4*1" Inches
BEE: 4*4*1" Inches
DEER: 4*4*1" Inches
PROVANCE ROSE: 4*4*1" Inches
WINDMILL: 4*4*1" Inches
HEDGEHOG: 4*4*1" Inches
EASTER BUNNY: 6.3*4.7*1" Inches
RABBIT: 4*4*1" Inches
ROSE: 4*4*1" Inches
HORSE: 4*4*1" Inches
SWAN: 4*4*1" Inches
SNOWMAN: 4*4*1" Inches
CHRISTMAS TREE 2 : 4*4*1" Inches
CHRISTMAS HAT: 4*4*1" Inches
CHRISTMAS TREE: 4*4*1" Inches
COOKIE ROSE: 4*4*1" Inches
The mold is just the mold, ths idea comes from you!
🥰Maybe you need this:
Maintenance and cleaning of wooden baking molds:
When using it for the first time, please do not wash it directly with water.
First wipe the mold with a clean cotton cloth;
Then use vegetable oil to smear the surface of the mold, and then let the mold dry naturally, which can prevent mildew and dry cracking.
After daily use of the mold, you can quickly rinse it with clean water, and then use a cotton cloth to dry and air dry. It is recommended to use vegetable oil for painting after each cleaning and drying, which can increase the service life of the mold and prevent deformation and cracking.
Note: Please do not soak the mold in water for a long time when cleaning.