The UV rays may cause damage to your vehicle's electronics, dashboard, leather, and seats. Exposure to high temperatures can even produce harmful gases like formaldehyde.  a windshield shade blocks UV Rays and heats effectively. They are designed to keep your vehicle's interior cool and protects against damage caused by hot sunlight.
How Does Auto Sunshade Umbrella Help?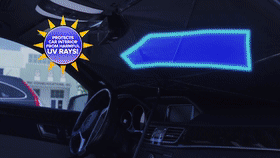 UV & Sunrays protection
Interior equipment protection
Cool car environment for a comfortable experience
Quick and easy installation
Convenient to carry and store
Protects your dashboard
MAIN FEATURES
【Protect Yourself & Car】
Automotive windshield sunshade can effectively protect you from sunlight and provide you with a cool driving environment, keep the seats and dashboard from cracking due to sun exposure.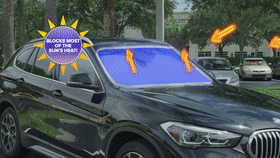 【Convenient to Use】
auto sunshade umbrella is foldable, very easy to open and close. It's super space-saving and time-saving for daily use.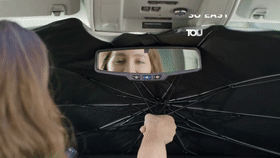 【Firm Skeletons Structures】
10 Strong skeletons and stable support ensure the durability of this car sunshade umbrella.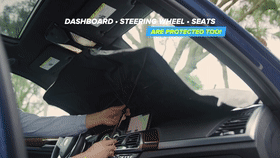 【Suitable for All Seasons】
No matter it is spring rain, summer sun, autumn leaves, or winter snow, the Automotive windshield sunshade can be used in all seasons with its great weather-resistance, like anti-snow/fog/UV/heat.
【Durable Material】
Made of is made of high-hardness steel, this car sunshade umbrella is heat insulation, UV block, and reliable to use for long service.